For a brief time, I'm offering free MP3's of a five treasures from my voluminous collection - songs I love and that I'm confident you can't find easily at any store. These are relatively lo-fi files (128 kbps) of very rare songs (mostly), so no one should get too upset (we hope) at this petty larceny. Click on the pictures, song titles, or MP3 links to get your Christmas off to a rockin' start! Like Phil Spector, I'm pleased to offer this Christmas gift for you.

Randy Anthony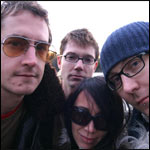 Farrah, "Christmas Is Cancelled (This Year)" (2005)
In the past, I've tried to restrict my annual "Christmas Gift" to hilariously rare songs, including some never issued on CD at all. Well, this year, I discovered that virtually all of the songs I had chosen are (or have been) available in digital format. This one, a typically infectious tune from British power pop band Farrah, is still available for free download on their record company's website. At least they shouldn't mind that I'm giving it away, too, especially since my main reason for choosing "Christmas Is Cancelled" is to promote this marvelous band (and their incredibly hot bass player). Farrah sound quite like the Limey cousins of Fountains of Wayne (or Weezer minus the angst) and, so far, have released three albums (and a neat little Japanese EP). Just one has been formally issued in the United States, but all are easily available either through Amazon, iTunes, or directly from Lojinx Records. "Christmas Is Cancelled," however, can't be found on any of those records, as it has been distributed exclusively (but widely) as an MP3 download. Hardly rare, but inarguably irresistible - a holiday festival of hooks and harmonies, telling how Santa's taking a vacation - from us. "Santa's sick of selfish kids who want to take but hate to give," singer Jez Ashurst explains. "Won't they be surprised," he adds dryly, because "there won't be any presents from the big man with the beard."
MP3, 3.0 MB (downloaded from internet)
---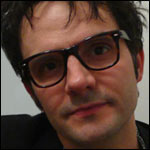 Mike Viola & The candy Butchers, "Give Me A Second Chance for Christmas" (1999)
If I'm doing my math right, "Give Me A Second Chance for Christmas" was the Candy Butchers' first formal release - albeit a very limited one. Mike Viola recorded it with his then-partner Todd Foulsham for the December 1995 "Santa Special" edition of the Hello Recording Club CD of the Month, a project helmed by They Might Be Giants' Jon Flansburg. Viola cut the definitive version, though, four years later with a new band (including bassist Pete Donnelly from New York's fabulous Figgs) for an EP called Let's Get Christmas. To my surprise, I discovered that not only can copies of Let's Get Christmas be purchased from Mike's website (I bought mine for a small ransom off eBay), but he's handing out downloads of "Give Me A Second Chance" - just like me. So, enjoy the freebie, but pick up the EP - it's worth it to hear Mike and his buddies assault Mariah Carey's "All I Want For Christmas Is You." Signed to Mariah's label (Sony) at the time, Mike recollects, "She thought it was a joke."
MP3, 3.1 MB (ripped from CD)
---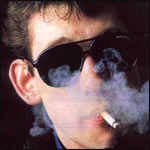 Shane MacGowan & The Popes, "Christmas Lullaby" (1996)
MacGowan is known mainly for being the inarticulate lead singer of Ireland's Pogues, and for having the worst teeth in the history of rock 'n' roll. And, I must insist, for participating in one of the all-time great alternative Christmas songs - the Pogues' "Fairy Tale Of New York," recorded with late, lamented Kirsty MacColl and featured on the band's 1988 album If I Should Fall From Grace With God. MacGowan waxed "Christmas Lullaby" long after he'd left the Pogues, and while it is the lesser song, it holds true to the earlier formula - very Celtic, very depressing. Shane stumbles home drunk on Christmas Eve, and his son greets him saying, "Daddy, you're stinking of booze." True enough, Shane admits. "I kissed him and said, 'Kid, I was born to lose.'" The song first came out on a little EP called Christmas Party '96, which itself is quite rare (see Amazon UK). But, "Christmas Lullaby" was later included on The Rare Oul Stuff, a compilation of rarities from MacGowan and his new band, the Popes, that is quite easy to locate.


MP3, 3.2 MB (ripped from CD)
---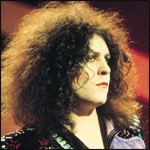 Marc Bolan & T. Rex, "Christmas Bop" (1975)
I include "Christmas Bop" here for a few reasons. First, it's great - a fine example of glam rock ("get out your silk jeans and your space shoes") and a wonderful holiday song, too. Second, it's pretty rare - this version, in particular. Which brings me to my third point - I need some help, and I'm hoping that the T. Rex and/or Christmas music buffs out there can straighten me out. Two versions of "Christmas Bop" exist, and I only know the story of the first one. That "official" version was recorded in 1975 and scheduled for release - some copies of the 7-inch single were even pressed. But, the release was cancelled, and the song remained unreleased until 1982 - long after the singer's death. The single fades in, runs about 3:40 (some edits approach 4:00), and is characterized by strings, prominent guitar, and female background vocals (singing "T. Rex-mas!"). These days, the single version is often featured on T.Rex rarities compilations like Rhino's Work In Progress (2003), and it even showed up on this year's excellent Greatest Hits 2-CD set. The second version - the one I'm offering herein - is an entirely different take (that is, not just a remix). It starts cold, runs about 3:20, features organ - no strings or chick singers - and includes sleigh bells at the beginning and end. This is probably the "master" version on Bump 'N Grind (2000), an out-of-print Japanese collection, but I can't be sure - I downloaded it from a T. Rex fan website. So, what's the scoop? Send me an email if you know!
MP3, 3.2 MB (downloaded from internet)
---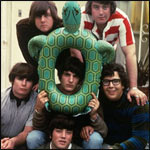 Christmas Spirit, "Christmas Is My Time Of Year" (1968)
This year's final selection is one of my Top 100 Christmas Songs. And, until I began researching this piece, I thought "Christmas Is My Time Of Year" was one of the rarest items in my collection. In fact, I didn't even own a copy of the original (insanely rare) 45-rpm White Whale single (#290 b/w "Will You Still Believe Me"). Instead, I owned a copy of Rhino's vinyl LP Rockin' Christmas: The 60's (1984) - pretty rare in-and-of-itself - which was the only time "Christmas Is My Time Of Year" had ever been reissued. Or, so I thought. Turns out, a UK label called Rev-Ola had compiled Out of Nowhere: The White Whale Story, Vol. 2 (2004), which included both sides of the original 45. Nevertheless, you, lucky reader, get to hear Rhino's vinyl version (which is cooler...).
So, who the hell are Christmas Spirit? Well, White Whale Records was an independent label known almost exclusively for the Turtles (pictured), and it was the Turtles' singer Howard Kaylan who wrote "Christmas Is My Time Of Year" with producer Chip Douglas (Monkees, Lovin' Spoonful). Christmas Spirit was really just a one-off lark, with an amazing cast of soon-to-be-legendary California rockers lending a hand. These included Turtle Mark Volman (who, with Kaylan, later performed with Frank Zappa as Flo & Eddie); Gram and Gene Parsons (both of whom were members of the Byrds and the Flying Burrito Brothers - but were not related); Linda Ronstadt (then a Stone Pony but soon to become a country rock icon); and Henry Diltz and Cyrus Faryar (who, with Douglas, were members of the Modern Folk Quartet). "Christmas Is My Time Of Year" is a sterling (if eccentric) example of the Turtles' pop-folk-rock hybrid, and it brims with the festive spirit of the holidays - even if Bessie Griffin and the Gospel Pearls (whoever they are) nearly overwhelm the proceedings with their cacophonous caroling!
MP3, 3.1 MB (ripped from vinyl)
Christmas Jukebox

Now, you can hear the Christmas music I write about! My Christmas Jukebox is bulging with over 450 tracks, and I'll be adding more rockin' Yule tunes throughout the year. [listen now]
Sponsored Links