As is my custom, I am offering free MP3's of five treasures from my voluminous collection - songs I love (or love to hate) and that I'm confident you can't find easily in stores. These are relatively lo-fi files (128 kbps) of (mostly) very rare songs, so no one should get too upset (we hope) at this petty larceny. Like Phil Spector, I'm pleased to proffer this Christmas gift for you.

Last year, in honor of criminal justice reform, I shared songs about Christmas in prison (look and listen). To people weaned on "Sleigh Ride" and "Jingle Bells," such songs may seem like non sequiturs, but there are quite a few such compositions dating back nearly to the dawn of recorded music. The five records I shared last year represented the low hanging fruit, so I'll share the best of the rest this year - let's call it "recidivism" - even though we haven't sprung non-violent drug offenders or abolished the death penalty yet....

Anyway, you can stream the tracks online (unless you're using Firefox) or click on the pictures, song titles, or MP3 links to download the files. I hope this gets your Christmas off to a rockin' start - and keeps you out of the big house!

Randy Anthony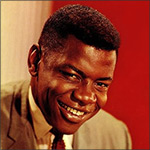 Ron Holden, Who Said There Ain't No Santa Claus (1960)
In the crazy world of Christmas rock 'n' roll, there are few records crazier than Ron Holden's "Who Said There Ain't No Santa Claus," released as a Donna single b/w "Your Line Is Busy." Holden's career began, in fact, when he was in jail. Booked for drunk driving, he was discovered while idly singing and soon recorded his signature song, "Love You So" (1959) for Nite Owl Records, which became his only pop hit when reissued by the Donna label in 1960. On that record, he was backed by a group called the Thunderbirds, who also backed him on "Who Said," an R 'n' B rave-up in a Coasters vibe. In the song, the singer gets an insurance settlement after his wife dies (mysteriously, we presume), goes on a "spree" (which ends in gun play), and ultimately wind up with free room and board - courtesy of the state. Each time he invokes the name of St. Nick: How could he be so lucky if there ain't no Santa Claus? He's so lucky, in fact, that he gets his very own cell - on death row. "Who Said" hasn't been reissued very often, and it's most appropriately collected on Rhino's Bummed Out Christmas.
---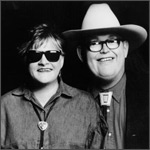 Bill and Bonnie Hearne, Christmas In A Honky Tonk (New Year's Drunk In Jail) (1981)
Bill and Bonnie met as youngsters at the University of Texas and stayed in Austin for the birth of the "outlaw country" scene, influencing such eventual standouts as Nancy Griffith, Lyle Lovett, and Tish Hinojosa. Eventually, they moved to Santa Fe where years later, they would record well-received albums like Diamonds in the Rough (1997) and Watching Life Through a Windshield (2000). "Christmas In A Honky Tonk" is one of their few early recordings, cut for The Austin Christmas Collection with local hero John Inmon on guitar, but never reissued on CD. Bill takes the lead, with Bonnie lending harmonies, and he paints a classic country weeper. Sitting in a bar telling his sad tale, Bill never quite explains how he ends up in jail - it just seems inevitable. "Nothing's come together this year, and everything's gone wrong, and my big Christmas plans seem to fail," he sings. You can guess the rest.
---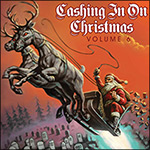 Saints & Sinners, "A Fairytale Of New York" (2014)
For me, the acid test of a great Christmas song is whether or not it's a great song, period. By that measure, "A Fairytale Of New York" is a great Christmas song. You could listen to it any day of the year and appreciate it just as much. But, it really is a Christmas song - sort of. It tells the story of an Irish couple on the skids - their whole story, from hopeful youth to acrimonious middle-age. It begins with a man spending Christmas in the drunk tank, dreaming of the woman he used to love, the woman with which he started a new life in New York City. It ends badly, of course, but the memory of their early Christmases in the Big Apple give him solace despite his squalid and forlorn condition. In the original 1988 version by the Pogues, Shane MacGowan sang the man's part and guest star Kirsty MacColl sang the woman's. It's a great performance, but I'd rather give you a version from a less trodden path. Surprisingly, "Fairytale" hasn't been covered that much, and most versions stay annoyingly faithful to the (admittedly daunting) original. On the other hand, this reading by punk band Saints & Sinners, with a cameo by Liz Rose of UK band Deadline, breathes some fresh life into the classic without ripping it entirely to shreds. It's taken from Cashing On On Christmas, Vol. 6.
---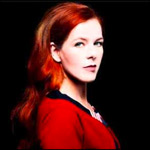 Neko Case, "Christmas Card From A Hooker in Minneapolis" (2000)
Tom Waits recorded this amazing piece of songwriting in 1978 for his album Blue Valentine, and if you haven't heard it yet, you're in for a treat. The whole thing is, in fact, a Christmas card from a hooker in Minneapolis, an evocative letter written to a man named "Charley" whose relationship with the woman is never revealed - perhaps an old lover, a running buddy, or partner-in-crime. And, that's what's amazing about Waits' lyrics: They are so richly detailed, they reveal so much, and yet so much is left to be guessed. Now, the reason why the song belongs on our "Christmas in prison" list is wrapped up in Wait's marvelous surprise ending - listen and find out. Tom Waits' performance is marvelous, too, and only a handful of artists have dared to cover "Christmas Card." I've never heard a better version than Neko Case's interpretation on the Waits tribute album, New Coat of Paint. She doesn't change the song much, but she really becomes the woman in Waits' story - and that change in perspective lends the song a melancholy gravity. And, of course, her voice is a wonder to behold.
---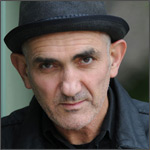 Paul Kelly, "How To Make Gravy" (1996)
If you're from Australia, from whence Paul Kelly hails, you probably know all about "How To Make Gravy." It's a pretty big deal Down Under where it picked up a number of 'song of the year' awards after its initial release as a four-song EP, and today it's considered an Oz classic. In America, the song wasn't even released until 1998 when it was included on the U.S. version of Kelly's album Words And Music. Like "Christmas Card From A Hooker in Minneapolis" (above), "How to Make Gravy" is a letter, or perhaps a phone call, this time from a man in prison to his brother. Ostensibly, he's worried that no one will know how to make gravy for the Christmas turkey. But, as he ticks off his holiday wishes, questions, and concerns, all sorts of fear and loathing bubbles to the surface. Everything about "How to Make Gravy" is impressive - the masterful pacing, the vividly drawn story, and, most especially, Paul Kelly's heartbreaking vocal performance. Later, it appeared on his greatest hits album, Songs From The South (1997), and lent its title to his 2010 autobiography. Just last year, Kelly recorded a new version with Crowded House leader Neil Finn.
Have you been very, very good? Well then, you get to reach into Santa's swingin' sack one more time! Peruse our MP3 giveaways from 2003 (including Weezer and Keith Richards), 2004 (Shelby Lynne, White Stripes), 2005 (Cheap Trick, Leon Russell), 2006 (Marshall Crenshaw, Screaming Santas), 2007 (T. Rex, Turtles), 2008 (MxPx, BoDeans), 2009 (Aimee Mann, The Fray), 2010 (R.E.M.), 2011 (Blondie, Blues Magoos), 2012 (Flagpole Christmas), 2013 (Pretenders, Donnas), 2014 (Charles Brown, Pearl Jam), and 2015 (Willie Nelson, Leroy Carr).
Christmas Jukebox

Now, you can hear the Christmas music I write about! My Christmas Jukebox is bulging with over 450 tracks, and I'll be adding more rockin' Yule tunes throughout the year. [listen now]
Sponsored Links