For a brief time, I'm offering free MP3's of a five treasures from my voluminous collection - songs I love (or love to hate) and that I'm confident you can't find easily at any store. These are relatively lo-fi files (128 kbps) of (mostly) very rare songs, so no one should get too upset (we hope) at this petty larceny. Click on the pictures, song titles, or MP3 links to get your Christmas off to a rockin' start! Like Phil Spector, I'm pleased to offer this Christmas gift for you.

Randy Anthony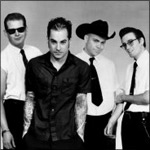 Amazing Crowns, "One More Christmas (To Put Up With You)" (1998)
The post-grunge lounge movement of the 1990's took on several guises - from a flood of fabulous reissues (Esquivel, Les Baxter) to meticulous revivalists (Combustible Edison, Squirrel Nut Zippers) to neo-swing bands like the Royal Crown Revue, Big Bad Voodoo Daddy, and the Amazing Crowns. The Crowns played something closer to rockabilly, actually, but with a definite nod towards the dance-crazed swing audience. The swing bands ultimately pulled the biggest audiences, and they really cottoned to Christmas music, as well. The Royal Crown Revue released a great single in 1998 ("Hey Santa") followed by an album in 2004 (Don't Be A Grinch This Year), and Big Bad Voodoo Daddy released no less than three holiday albums, including this year's It Feels Like Christmas Time. The Amazing Crowns managed just one song, released only on a promotional EP called Holiday Bootleg - but it's the best of the bunch. "One More Christmas (To Put Up With You)" swings like crazy, but it's delightfully malevolent kiss-off is what makes it memorable. "It's okay to feel this way," confides singer Jason "King" Kendall, "Santa told me so," as he kicks of two frenzied minutes of gleeful, tail-shaking venom.
MP3, 2.0 MB (ripped from CD)
---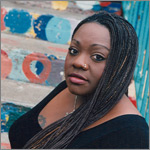 Thornetta Davis, "Funky Drummer Boy" (1998)
I can say with confidence that Thornetta Davis was one of the few black people who has ever recorded for Sub Pop Records. However, that label, known for punk, grunge, and alternative rock acts such as Sonic Youth, Soundgarden, and Nirvana, had a more eclectic roster than people generally think. Nowhere was that more evident that on a series of promotional Christmas cards they sent out during the height of their success in the 90's. These included treats from exotica revivalists Combustible Edison (1994), country songwriter Mike Ireland (1997), and R&B singer Thornetta Davis (1995), a Detroit resident who signed to the Seattle-based label after providing back-up vocals for another Motor city act, Big Chief, who recorded for Sub Pop. She only waxed one LP for them (Sunday Morning Music, 1996), but she also recorded this memorable take on "The Little Drummer Boy" (as well as a less memorable version of "Santa Baby"). It also appeared on a little promotional EP called Sub Pop's Holiday Sound Spectacular (1997). Davis, by the way, released a whole Christmas album this year called Remember Love On Christmas Day; the album can only be purchased directly from her, but the title track is available for download at Amazon.
MP3, 3.5 MB (ripped from CD)
---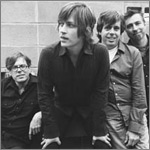 Old 97's, "Here It Is Christmas Time" (2007)
This song by fine Texas alternative country band the Old 97's falls into a growing category of digital orphans: songs released exclusively in a digital format and then withdrawn - and therefore functionally non-existent. That's certainly one of the worst aspects of digital music, as opposed to physical media such as vinyl or compact discs. If I want to buy, say, a doo wop song from 60 years ago, I can - I just have to find the 45-rpm record and fork over the dough. If I wanted to buy this wonderful, melancholy Christmas song from just six years ago, I'm shit-out-of-luck - as are you. Lucky for us both. I bought it when it first came out, and now I'm sharing it. I'd be remiss if I didn't mention, as well, that lead singer Rhett Miller released his own Christmas song this year - "Christmas Is Coming" - available exclusively as a download through Noisetrade. So I guess I'll be giving that one away a few years hence.... Postscript: One year after I posted this, "Here It Is Christmas Time" was compiled on the generally excellent Americana Christmas. Be a sport and go buy a copy...
MP3, 3.5 MB (downloaded from the web)
---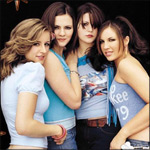 The Donnas, "Up On The Housetop" (2009)
Among life's simple pleasures, the Donnas are among the simplest and most pleasurable. Their loud, basic rock 'n' roll never fails to make me smile, bang my head, and pump my fist. This straight-ahead reading of a venerable Christmas classic couldn't be more typical of their approach to music - and, ergo, is pretty damn great. Strangely, though, "Up On The Housetop" appeared only on a generic CD called Pop/Rock Holiday Classics, part of a budget series compiled by Rhino exclusively for Wal-Mart. Though I refuse to shop at the Walton's little establishment, I finally tracked down a copy and rescued the song from obscurity. It's worth noting that the Donnas recorded another holiday song - a slam-bam version of the Waitresses' "Christmas Wrapping" - and it, too, is awfully obscure. The track appeared in Shrek The Halls, an ABC television special, but no soundtrack album was ever issued. I'm still trying to hunt that one down!
MP3, 2.1 MB (ripped from CD)
---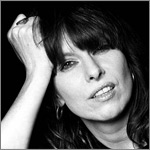 Pretenders, "Happy Christmas" (1995)
Despite her sour, snarling persona, lead Pretender Chrissie Hynde seems to rather fond of Christmas. Of course, her band recorded one of the modern greats, "2000 Miles," at the height of their success in 1983. Subsequently, they waxed "Have Yourself A Merry Little Christmas" on A Very Special Christmas (1987) and a whole Holiday EP in 2008 (now deleted). In 2010, Hynde recorded a really great song, "Christmas Soon," with boyfriend JP Jones and lent background vocals to ex-boyfriend Ray Davies' "Postcard From London." Her original song, "Happy Christmas," snuck out as the b-side of a new, live version of "2000 Miles" released only in Europe, and it's never been released elsewhere. More than any of her other holiday recordings, it's a quiet, traditional, and sentimental, though reflective, track, revealing the soft heart of Hynde's frequently hard-edged music.
MP3, 4.7 MB (ripped from CD)
Have you been very, very good? Well then, you get to reach into Santa's swingin' sack one more time! Peruse our MP3 giveaways from 2003 (including Weezer and Keith Richards), 2004 (Shelby Lynne, White Stripes), 2005 (Cheap Trick, Leon Russell), 2006 (Marshall Crenshaw, Screaming Santas), 2007 (T. Rex, Turtles), 2008 (MxPx, BoDeans), 2009 (Aimee Mann, The Fray), 2010 (R.E.M.), 2011 (Blondie, Blues Magoos), and 2012 (Flagpole Christmas).
Christmas Jukebox

Now, you can hear the Christmas music I write about! My Christmas Jukebox is bulging with over 450 tracks, and I'll be adding more rockin' Yule tunes throughout the year. [listen now]
Sponsored Links