For a brief time, I'm offering free MP3's of a five treasures from my voluminous collection - songs I love (or love to hate) and that I'm confident you can't find easily at any store. These are relatively lo-fi files (128 kbps) of (mostly) very rare songs, so no one should get too upset (we hope) at this petty larceny. Click on the pictures, song titles, or MP3 links to get your Christmas off to a rockin' start! Like Phil Spector, I'm pleased to offer this Christmas gift for you.

Randy Anthony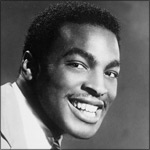 Charles Brown, "My Most Miserable Christmas" (1961)
Having recorded two of the most iconic rhythm & blues Christmas songs, "Merry Christmas Baby" and "Please Come Home For Christmas," Charles Brown certainly earned a spot in the Hip Christmas hall of fame. In fact, he waxed those two songs over and over again in addition to recording several LP's of Christmas music (learn more). "My Most Miserable Christmas" holds a special place in that legacy, however, because it has been largely lost to history. It first appeared on Brown's 1961 King LP, Charles Brown Sings Christmas Songs, and it later served as the b-side for "Christmas Blues" (1964). But, when the LP was reissued, King replaced the track - an unrepentant downer - with an undeniably more upbeat version of "Merry Christmas Baby." "My Most Miserable Christmas," meanwhile, has never been reissued in any format. This version - in vivid stereo, complete with pops and clicks - is the only copy I own, and it was given to me by my brother, an avid Charles Brown fan and discerning Christmas music connoisseur.
MP3, 3.9 MB (ripped from vinyl)
---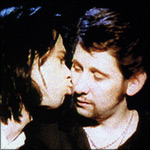 Nick Cave & Shane MacGowan, "What A Wonderful World" (1992)
Shane MacGowan was, of course, the infamously soused and virtually unintelligible lead singer of the Pogues, an Irish band who introduced punk energy to traditional Celtic music. Eventually, MacGowan's profligate ways got him kicked out of the band - who were never the same without him. He began a fitful solo career, oddly enough, with this uncharacteristically sweet duet with indie darling Nick Cave, whose solo career has long eclipsed his pioneering days with Australian noisemongers The Birthday Party. Against all odds, this faithful version of the song made famous by Louis Armstrong - and which became associated with Christmas after its appearance in the movie Good Morning Vietnam - actually became a minor hit in the UK. And, when I first thought to share it with you, it was available only as a long-out-of-print CD. Since then, it's come back into print as an MP3 download. So, if you like it, go buy a higher quality version. Shane's probably thirsty, and whiskey ain't free.
MP3, 2.8 MB (ripped from CD)
---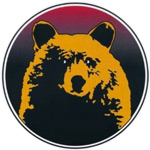 Edward Bear, "Coming Home Christmas" (1973)
Edward Bear, you may have guessed, isn't a person at all. They are a musical group - like Jethro Tull, Uriah Heep, or Wet Willie, only much softer. Their biggest hit, "Last Song" (1972), while catchy as hell, was a hallmark of what soon became known as "soft rock" - an oxymoron as egregious as "military intelligence" and "business ethics." Nevertheless, in their native Canada, Edward Bear was a pretty big deal, scoring an impressive string of hits in the early 70's. In the United States, however, they were nearly a one-hit wonder. Regardless, their holiday single, "Coming Home Christmas," didn't chart in either country, never appeared on any album, and has never been reissued in any format. My old vinyl copy is rough, but the hokey charm of this sentimental, original song shines through the distortion.
MP3, 3.2 MB (ripped from vinyl)
---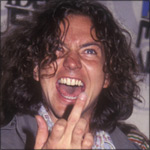 Pearl Jam, "Santa God" (2007)
I'm not a big Pearl Jam fan. After their towering debut, Ten (1991), they quickly lost momentum and devolved into a neo-classic, navel-gazing rock band. Of all the groups that emerged from Seattle's "grunge" scene in the early 1990's, I'd rate them well below such stalwarts as Soundgarden, Screaming Trees, and, of course, Nirvana. On the other hand, any band that puts out an annual Christmas single is all right by me! Pearl Jam's yearly fan club offerings began with an original Christmas song, "Let Me Sleep (Christmas Time)" (available on Lost Dogs), but most of them haven't hewed to the holiday theme. The exceptions include great covers of the Sonics' "Don't Believe in Christmas" (2002) and Stevie Wonder's "Someday At Christmas" (2004). "Santa God" was another original, and it's the last Christmas song they've done. It's subject matter, I'll admit, is quite unique, in that Eddie Vedder's lyrics examine the way Kris Kringle and the Lord Almighty get muddled together in the minds of children. Rock on, dude.
MP3, 2.6 MB (ripped from vinyl)
---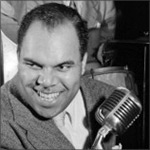 Phil Moore Four, "Chinchy Old Scrooge" (1953)
Back in 2008 I shared "Blink Before Christmas," the a-side of "Chinchy Old Scrooge," and I explained that I knew almost nothing about the Phil Moore Four. Since then, the growth of the interwebs has enabled me to learn much more about the group and their titular leader. Inspired by jazz pianist Art Tatum, Phil Moore began a long career in show business but never recorded prolifically - just a few singles and a brief string of now-forgotten jazz and exotica LP's in the 1950's. Mainly, he stayed behind the scenes as an accompanist, songwriter, arranger, bandleader, talent director, vocal coach, and film composer. But, he worked with a long list of big names including Lena Horne, Frank Sinatra, Tommy Dorsey, Harry James, Marilyn Monroe, Dorothy Dandridge, Johnny Mathis, the Supremes, Diahann Carroll, Judy Garland, Shirley Bassey, Tom Jones, Louis Armstrong, Mildred Bailey, and Perry Como. The Phil Moore Four (which some sources claim included legendary jazz bassist Milt Hinton) conducted a long residency at the famed Café Society nightclub in New York City but, as I said, they managed to wax just a few sides - mostly for RCA Victor, including "Blink Before Christmas." Like its a-side, "Chinchy Old Scrooge" is a prime cut of hipster jive, chock full of streetwise patter. This time, Moore tells the tale of a pawn broker who learns the true meaning of Christmas: cheap wine, loose women, and cool jazz. (In the lingo of the day, by the way, the word "fag" meant "cigarette" - not a sexual aspersion.)
MP3, 3.2 MB (ripped from CD)
Have you been very, very good? Well then, you get to reach into Santa's swingin' sack one more time! Peruse our MP3 giveaways from 2003 (including Weezer and Keith Richards), 2004 (Shelby Lynne, White Stripes), 2005 (Cheap Trick, Leon Russell), 2006 (Marshall Crenshaw, Screaming Santas), 2007 (T. Rex, Turtles), 2008 (MxPx, BoDeans), 2009 (Aimee Mann, The Fray), 2010 (R.E.M.), 2011 (Blondie, Blues Magoos), 2012 (Flagpole Christmas), and 2013 (Pretenders, Donnas).
Christmas Jukebox

Now, you can hear the Christmas music I write about! My Christmas Jukebox is bulging with over 450 tracks, and I'll be adding more rockin' Yule tunes throughout the year. [listen now]
Sponsored Links