As is my custom, I am offering free MP3's of five treasures from my voluminous collection - songs I love (or love to hate) and that I'm confident you can't find easily in stores. These are relatively lo-fi files (128 kbps) of (mostly) very rare songs, so no one should get too upset (we hope) at this petty larceny. Like Phil Spector, I'm pleased to proffer this Christmas gift for you.

This year, in honor of criminal justice reform - a cause I wholly support - I thought I'd share songs about Christmas in prison. Such songs may seem like non sequiturs to people weaned on "Sleigh Ride" and "Jingle Bells," but there are quite a few such compositions dating back nearly to the dawn of recorded music. In fact, these five records represent simply the low hanging fruit caught in my rudimentary keyword searches. There's much more - and I'll share those next year, especially if we've managed to spring non-violent drug offenders and abolish the death penalty....

Anyway, you can stream the tracks online (unless you're using Firefox) or click on the pictures, song titles, or MP3 links to download the files. I hope this gets your Christmas off to a rockin' start - and keeps you out of the big house!

Randy Anthony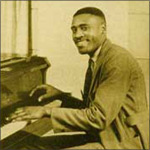 Leroy Carr, "Christmas In Jail (Ain't That A Pain)" (1929)
After the deification of Robert Johnson - and the codification of the blues as a guitar-based genre - early blues pioneers like Leroy Carr, who played the piano, tended to get overlooked. That's a shame, because Carr wrote some great songs like "How Long, How Long Blues," and "Blues Before Sunrise," and he was really quite popular in his day. Even more, his suave, urbane style set the stage for men like Nat King Cole more than a decade hence. That said, his "Christmas In Jail" is a fairly straightforward 12-bar blues accompanied by guitarist Scrapper Blackwell, and it paints a dire picture. You see, Carr isn't just behind bars for Christmas - he's behind bars for Christmas again. Apparently, he made a habit of this. In the end, his litany of complaints - the food's no good, he doesn't have a tree or presents, his baby doesn't love him - is reduced to a simple declaration: Ain't that a pain! Indeed. (For more, see Where Will You Be Christmas Day?.)
---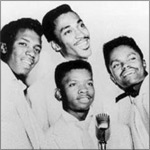 Youngsters, "Christmas In Jail" (1956)
For me, the Youngsters' "Christmas In Jail" is the most iconic song on our list. With its powerful bass vocal and strong beat, it tells a vivid, hilarious story of drunk driving and its consequences. Singer Charles Everidge confesses, "I was in the wrong lane feelin' no pain, zoomed my car to 75." Unfortunately, he "ran right into you can guess who, and they say I'm lucky to be alive." It just goes downhill from there, and he ends up eating bread and water for Christmas dinner. According to Marv Goldberg, the record actually earned a commendation from the National Safety Council for sending a clear message to kids about the evils of drinking and driving that might help prevent holiday accidents! The Youngsters, by the way, were an active doo wop on the Los Angeles scene and recorded under several names including the Preludes and the Tempters. But, they scored no major hits and "Christmas In Jail" is now their primary legacy, having been covered by Asleep At The Wheel, The Bobs, and others. (For more, see Bummed Out Christmas.)
---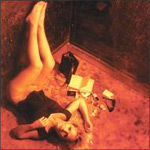 Swallows, "Christmas In The Slammer" (2000)
There have been a dozen or so groups called the Swallows in the annals of rock, going all the way back to the doo wop "bird groups" (e.g. Orioles, Ravens, Penguins). This particular female-led, guitar-heavy group hailed from Boston, Massachusetts - and I can tell you almost nothing else about them. The band appears to be long defunct though, apparently, you can still purchase their music (this CD single and an EP) from CD Baby - which is where I bought it long ago. "Christmas In The Slammer" opens with our heroine already locked up since "when push comes to shove, I always do the wrong thing." Over the course of the song, she admits to having shot a cop, beaten up her old man, "wrecked some shit" and "did some damage." Oddly, it ends up kind of heartwarming. She's actually happy to back with her "dysfunctional family" in the slammer. "Cops and crooks, what is the difference?" she asks. "On Christmas Day, you're the only family I've got." Awwww.
---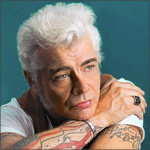 Dale Watson, "Mistletoe On Death Row" (2001)
I haven't done an inventory, but I'd bet that there's a bunch of prison songs in the repertoire of Dale Watson, a bare-knuckled Texas honky tonker who worships at the alter of jailbirds like Merle Haggard and Johnny Cash. On it's surface, "Mistletoe On Death Row" is actually jaunty, but the uptempo, boot-scootin' beat obscures a rather harrowing tale. Watson is estranged from his woman, stuck in lockup in Minneapolis, of all places, "waitin' on my Christmas beans and ham." After he gets a "Dear John" Christmas card, mistletoe becomes a metaphor. Since prisoners don't want to kiss their jailers, Watson reasons, "You want me just like we want mistletoe on death row." Gallows humor, I suppose. (The song was first released on a rare studio sampler called Peeing In The Snow, but recently appeared on the Angels Sing soundtrack.)
---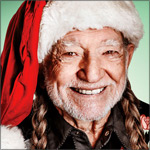 Willie Nelson, "Christmas In Prison" (2006)
This particular song, written and originally performed by John Prine in 1973, is perhaps the best-known song of the bunch. Like many of Prine's songs, it's a little off-kilter, filled with oddly-phrased, yet insightful couplets like "She reminds me of a chess game with someone I admire." Ultimately, "Christmas In Prison" is an impressionistic, yet simple tale of longing, a love letter from a man spending the holidays hopelessly removed from the woman he desires. Prine's original version is on his album Sweet Revenge, but this particular rendition by Willie Nelson is rather rare. It appeared as an album-only bonus track on iTunes attached to Songbird, an effort that paired Nelson with Ryan Adams and his band, the Cardinals.
Have you been very, very good? Well then, you get to reach into Santa's swingin' sack one more time! Peruse our MP3 giveaways from 2003 (including Weezer and Keith Richards), 2004 (Shelby Lynne, White Stripes), 2005 (Cheap Trick, Leon Russell), 2006 (Marshall Crenshaw, Screaming Santas), 2007 (T. Rex, Turtles), 2008 (MxPx, BoDeans), 2009 (Aimee Mann, The Fray), 2010 (R.E.M.), 2011 (Blondie, Blues Magoos), 2012 (Flagpole Christmas), 2013 (Pretenders, Donnas), and 2014 (Charles Brown, Pearl Jam).
Christmas Jukebox

Now, you can hear the Christmas music I write about! My Christmas Jukebox is bulging with over 450 tracks, and I'll be adding more rockin' Yule tunes throughout the year. [listen now]
Sponsored Links